21 July 2019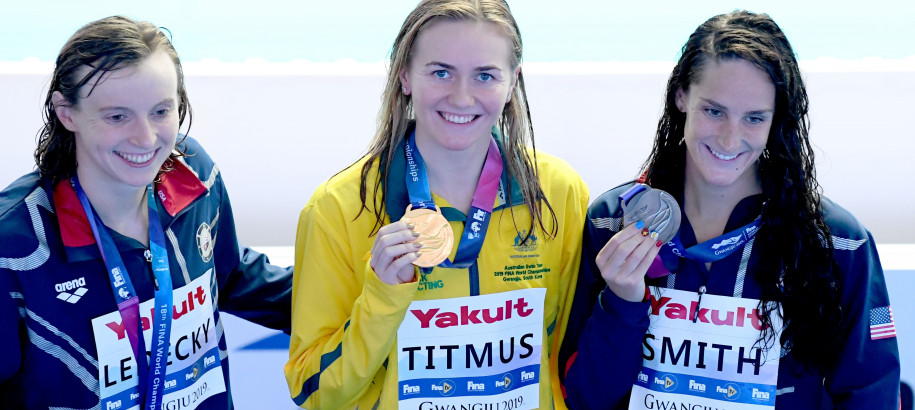 Australian teenager Ariarne Titmus has set the swimming world on fire after beating American superfish Katie Ledecky in the Women's 400m Freestyle at the FINA World Championships in Gwangju.
Her performance was one for the ages and added to Australia's hugely successful opening night – medalling in all four finals they raced in.
Playing cat and mouse with each other for 350 metres, 18-year-old Titmus took it up a level in the last 50 metres to touch in a new Commonwealth and Australian record of 3:58.76, ahead of Ledecky's 3:59.97.
The Women's 4x100m Freestyle Relay stood high on top of the podium as they claimed gold and set a new Championship record. The team of Bronte Campbell (52.85), Brianna Throssell (53.34), Emma McKeon (52.57) and Cate Campbell (51.45) came home in a time of 3:30.21 ahead of the United States (3:31.02) and Canada (3:31.78).
In a superb performance, Mack Horton claimed silver in the Men's 400m Freestyle in the second fastest time of 2019, touching behind China's Sun Yang in 3:43.17 and Italy's Detti Gabriele in 3:43.23. Fellow Dolphin Jack McLoughlin placed sixth in 3:45.19.
The Men's 4x100m Freestyle Relay of Cam McEvoy (48.44), Clyde Lewis (47.61), Alex Graham (48.11) and Kyle Chalmers (47.06) won bronze in a time of 3:11.22 with the Americans picking up the gold (3:09.06) and Russians the silver (3:09.97).
In semi- final action, Brianna Throssell posted a personal best time of 57.02 in the Women's 100m Butterfly with Emma McKeon touching .01 ahead of her. Both swimmers will contest the final on Monday night after qualifying in fourth and fifth position.
In his semi-final of the Men's 100m Breaststroke, Matt Wilson posted 59.26 finishing in 10th spot and outside of the top eight to contest the final on night two.
At the conclusion of night one, Australia currently sits on top of the medal tally with two gold, one silver and one bronze medal.
Catch all the action live and free by downloading Swimming Australia's iSwim app and follow the Dolphins results on Twitter and Instagram @DolphinsAUS. Heats start at 11am AEST and Finals at 9pm AEST.
#ReadyToRaceTheWorld