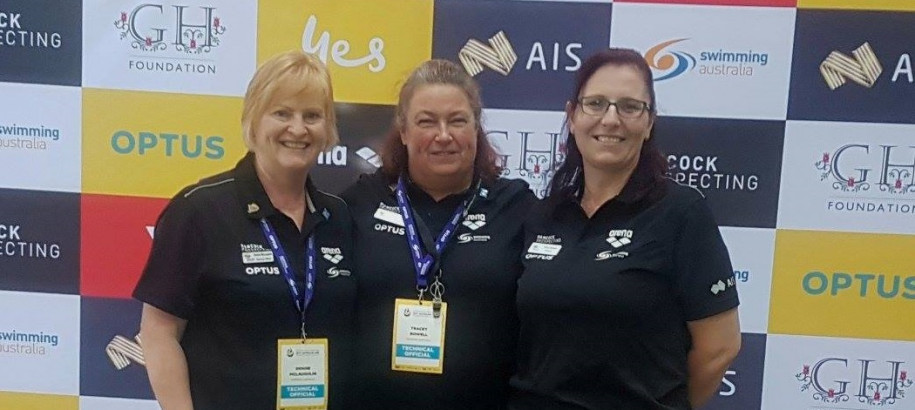 For more information on how to nominate for a meet, current rosters and uniform requirements, please click on the links below.
For rules, procedures, policies and protocols relevant to Officials, please click Resources and Support.
Nomination forms are distributed by email to all Technical Officials to allow them to nominate to officiate at competitions.  If you are interested in officiating at a meet please follow the instructions contained in that email. Swimming Tasmania State Technical Manager will then inform you if you have been appointed to that meet.

If you are not receiving calls for nomination and you would like to, please contact us.

Technical Officials Nomination Call Schedule 2018/19 Season

| | | | |
| --- | --- | --- | --- |
| MEET NAME     | MEET DATE | NOMINATION CALL CLOSES | NOMINATION CALL |
| Launceston Qualifying Meet | 19th October | 14th October 2019 | |
| Hobart Qualifying Meet | 26th October | 21st October 2019 | Click Here |
| Launceston Qualifying Meet | 1st November | 28th October 2019 | Click Here |
| Hobart Qualifying Meet | 9th November | 4th November 2019 | Click Here |

Please see below Rosters for recent and upcoming Swimming Tasmania events.

| | | |
| --- | --- | --- |
| MEET NAME | MEET DATE | ROSTER |
|   |   |   |

Swimming Tasmania supplies polo shirts for Technical Officials who officiate at its events. 

There are new polos for Technical Officials for the 2018/19 season. They are to be worn at Swimming Tasmania meets and will be offered to all Technical Officials who have attained qualifications above General Principles and Chief Timekeeper, and who are appointed to officiate at Swimming Tasmania meets.

Those who meet these requirements will be given two short sleeve polo tops. More details regarding these uniforms will be provided once accreditation is finalised.

Officials are required to wear the following to all Swimming Tasmania meets:

black pants, shorts or skirts
black shoes and socks

Please note that leggings are not suitable.

For more information please contact us.