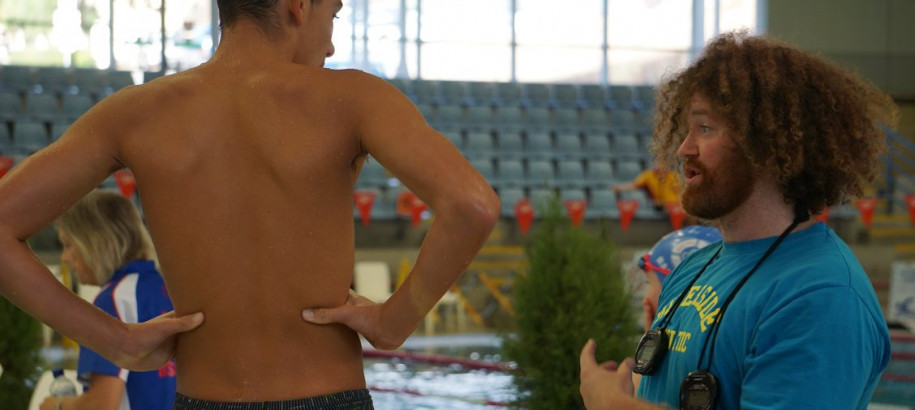 Coaching is a great way to harness your passion for swimming and be actively involved. It is not only exciting and self-satisfying but you can have a positive influence on people's lifelong involvement in swimming. Coaching is a rewarding job at all levels of swimming as you are responsible for helping people improve and develop their swimming, you can pass on your own experiences and watch people progress through the different pathways of swimming.
All swimming coaches should be licensed. To be licensed a swimming coach must be accredited, but a coach can be accredited without maintaining their license.
 Swimming Australia and most State Swimming Associations require coaches to hold a valid license to:
Gain access to the pool deck and warm up areas at their sanctioned swim meets
Be considered for selection as a representative coach
Have the opportunity to present other coaching courses
Ensure that a code of behaviour has been signed
Acknowledge that a working with children check has been sighted
Enable action to be taken when allegations of a breach of the codes of behaviour are made
ASCTA
The Australian Swimming Coaches and Teachers Association (ASCTA), is the peak body for swimming Coaches and Teachers in Australia. ASCTA is dedicated to developing world leading practises in the education, accreditation, professional development and on-going support for swimming Coaches and swimming and water safety Teachers.
Visit the ASCTA Website for further information.
Coaching Courses
If you are interested in either course please contact tom.hancock@tas.swimming.org.au.
Coaching in Tasmania
Successful clubs are often built around a talented coaching team. They will have most contact with the swimmers and are clearly crucial in ensuring all swimmers enjoy and improve in the sport. Swimming Tasmania is committed to providing new and existing coaches the opportunity to develop and progress through their coaching career.
In Tasmania coaches are required to be members of the Australian Swimming Coaches and Teachers Association (ascta) to be on pool deck during competitions and to have access to our development opportunities or to coach State squads/teams. More information on ascta and the National Coach Accreditation scheme can be found below.
Coaches are also expected to uphold appropriate Behavioural Standards, and must be familiar with and adhere to our Code of Conduct, Member Welfare and Child Welfare policies at all times.
 
Development in Tasmania
Swimming Tasmania offers development opportunities for coaches in a number of different ways:
By providing access to State Technical Director and Coach Mentor Leigh Nugent
By providing access to experts in a range of fields (nutrition, sports psychology, physio etc)
By providing access to highly regarded coaches from around Australia
By inviting coaches to development workshops such as presenters/facilitators and communications
By enabling and encouraging involvement in both the design and delivery of the Junior Excellence development program structure and the coaching of these squads
By enabling and encouraging involvement in both designing and delivering development program structure and the coaching Swimming Tasmania development squads and teams
Through the provision of coaching licence courses such as the Swim Australia Teachers Competitive Strokes and the Bronze licence courses.
Contact us for more information on any of these initiatives.
Key dates for coaches
Our Development Calendar is available here
National Coach Accreditation Information
Detail of the Swimming Coach Accreditation pathway can be found here.
Australian swimming coaches gain their accreditation through a multi-level competency based training system that recognises acquired knowledge, practical experience and coaching performance (in the case of 'advanced' qualifications). Swimming Australia, as the National Sporting Organisation (NSO) responsible for swimming, belongs to the National Coaching Accreditation Scheme (NCAS) of the Australian Sports Commission. The NCAS sets general guidelines for the development of course structures and pathways for recognition of coaching qualifications.
ASCTA administers the NCAS database on behalf of Swimming Australia and issues an annual licence upon compliance with State 'Working With Children' legislation and completion of ASCTA membership.
The link between learn to swim instruction and junior swimming coaching is an essential part of the coach development pathway. Swimming Australia has offered ASCTA the challenge of course delivery in this area and has transferred the former NCAS Green course content to ASCTA to commence delivery of Swim Australia Teacher of Competitive Strokes course (formally Junior Squad and Assistant Coach courses).
The aim of each tier of the accreditation system is to benchmark the competencies a coach should be able to demonstrate.
Bronze Coach – This is the 'club coach' standard in Australia. A Bronze Coach has been trained to plan, conduct, evaluate and modify swimming programs that will enable swimmers to compete at club / district and State level competitions. The Bronze Coach will work with a wide range of ages and abilities within a club or squad environment.
Swimming Tasmania offers licence courses for Bronze coaches. The syllabus is here, or you can Contact Us to check when the next course will be held.
Silver Coach – This is the 'performance coach' and is the first coaching level where 'swimmer performance' is evaluated. The Silver Coach must complete an advanced course covering the theoretical aspects of coaching and athlete performance. The Silver coach will have demonstrated the ability to coach swimmers competing at State and National age competitions.
Gold Coach – This is the 'high performance coach' and is an advanced coaching qualification that includes a theory component, independent study and research, as well as demonstrated coaching performance. The Gold Coach will have demonstrated the ability to coach swimmers competing successfully at National open championships.
Additional to the above accreditation levels, Swimming Australia present the following qualification to our medal winning national team coaches:
Platinum Coach – This is the Gold Coach that has demonstrated competency to undertake coaching duties as a member of an Australian Team. Performance standards required of the Platinum Coach will include; medal-winning performances at World Championships and/or Olympic Games.
Coaches having entered the accreditation scheme are eligible to complete additional courses for coaching Open Water Swimmers or Coaching Swimmers with a Disability to gain knowledge and have their expertise in these fields recognised through accreditation in these specialist areas.
 
To update your accreditation use this form.