15 May 2020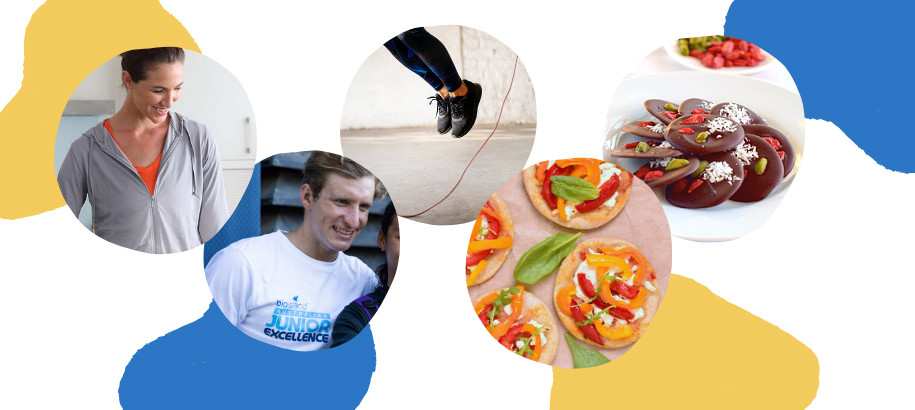 The first episode of 'JX Xtra', presented by Bio Island, successfully aired on Swimming Australia's Facebook Page this afternoon, Friday 15 May.
We understand not everyone will have the ability to watch this new three-part webinar series when its streamed, so we've compiled a comprehensive wrap, along with the full replay so you can catch up (or re-watch!) at your own convenience.
Hosted by Elka Whalan (nee Graham), the dual Olympian and Bio Island ambassador, was joined by Dolphin and Commonwealth Games gold medallist, Jack McLoughlin. Kicking off the series in an athlete-focussed session, the pair discussed everything from staying focussed and positive, to McLoughlin's workouts and exercise tips.
Watch the full replay below and read McLoughlin's thoughts on each topic.
McLoughlin on:
Isolation and keeping out of the pool
"It's been up and down to be honest. When it all happened, I was disappointed and sad – there were so many mixed emotions I didn't really know how to feel, and I think many people are feeling this way, we're all in the same boat.
"In saying that, I'm doing well, my family is doing well. We're just trying to stay calm and relaxed and trying to keep my life as normal as possible."
Losing the feel of the water
"There's not much you can really do about it to be honest. I'm pretty scared myself going back because I know it's going to be a big shock and there's not too much you can really do for it. I'm trying to do a lot of dryland stuff to try and simulate something similar to swimming with weights, especially around the shoulders and core area.
"I've also been doing a bit of cord swimming here and there but that's a lot harder than normal swimming because you're always against resistance which isn't swimming in general."
Staying motivated
"I see my motivation in different parts. My long-term motivation is obviously Tokyo next year, but in terms of just the past couple of weeks, I've kind of gone back to my young self.
"When I was a kid, I was the one running around doing every sport you could think of, tennis, basketball, running, swimming, rugby, but since I've become a professional swimmer, I don't get the time to play other sports. Since we've been in isolation I've been able to take up cycling and I've been doing a lot more walking and getting back out into nature – so just going back like when I was a kid and trying new things has been a positive out of the situation and it's keeping me motivated and focussed.
Staying connected to his coach and squad
"Every Wednesday afternoon we have meetings like this, and we talk about what's been going on. My coach is very down the line, so each team member has to talk about what they've been up to and how they are before we start the topics of the meeting – so that's really good.
"I also social distance while I'm exercising with one friend, so me and another person from my squad would meet up and do a cycle up to Redcliffe, and then the next week I might meet up with someone else, so we mix and match each week with different people all while maintaining those social distancing rules.
"We have a group text as well to make sure everyone is good and then with the Australian swim team we've had a few calls and everyone loves a bit of banter on those and then we also get the key information and what's going on. Our national swim team is such a close family, I don't know if many people understand or know that. Yes, we compete against each other nationally, but all of us are really good friends and we do miss each other, especially during this time."
What he's learnt about himself during this time
"Without exercise I'm very energetic and I can't sit still. I also study structural engineering at uni which I've been knuckling down on while I've got a bit of a break and I've realised I'm not very good at just sitting down and doing something.
"I think as well I've just learnt how to cope with hard situations well. As my coach says Olympic gold medallists aren't necessarily the ones who are the best and most talented, they're the ones who can cope with different situations the best."
Exercises McLoughlin does each day
(Please make sure you check with a parent or coach before undertaking any exercise plans or programs.)
Shoulder stability exercises:

I think it's important for young kids to strengthen their shoulders. It's not something that's weight dependent which is really good for young development. You need a shoulder resistance band, doing internal and external rotations and doing a few pulses – this is really important and beneficial for every stroke.


 

Swimmer specific exercises

: I do this every day with my physio and it involves holding a big plate above your head in a dead bug position. You can use any kind of weights, I do 5-10kgs and it's trying to stabilise down to your ribs down to the bottom of the ground while having the plate over your head. You're trying to be in that swimmer butterfly catch position which makes your shoulders strong, your core is stabilised and working that whole connection because swimming is a connection between your whole body.
 

Single arm, single leg position

: You'll be carrying the weight in one arm and then doing an extended leg with the opposite, again, that is using a combination of your core, shoulders and you hips. Like I said, in swimming it's all about your connection so from your right shoulder to your left tip is really important and vice versa.


 

Hip and thoracic stretch

: This is really important for freestyle and backstroke. With freestyle it's vital that your hips stay stable and your shoulders are rotating so that you can breathe and extend out.


 

Pre-race routine – abs, core, shoulder stability:

This is a bit more challenging, but it gets my blood flowing and muscles ready to go. It involves everything from push ups to oblique work through bridging and then into thoracic work of rotating and then finishing off with a burpee – it just gets the whole body moving and ready to go, which is really important before a race.


 

Foot exercises:

Just leaning back on your feet stretches your ankles which is important for Dolphin kick.


 

Glute exercises:

These are important for your starts and turns, and in freestyle it's good to have your hips and glutes nice and strong. This is a simple exercise for glutes – bridging on your back.


 

Lunging exercises:

This is a bit different from your standard lunges. Instead of lunging out and keep walking, this one is called the iso lunge. You go into the lunge position and hold it for 30 seconds and that way you'll really feel the burn in your quads and your calves and the back of your hips.
Injuries
"Sometimes when you go back to something after not doing it for a while you can find they'll be a lot of cases of injury, so I think it's really important to be doing these sorts of exercises every day, so that when you go back there's a lower chance of injuries."



Advice for junior swimmers
"I think it's really important just to stay in contact with some sort of swimming if swimming is your main sport and that's a path you want to go down. I'm a really big ambassador of a balanced lifestyle and the biggest thing for me in my success over the recent years is that I go to university, I do well in my grades, I swim at a high level and train really hard and I also have a great friend group around me.
"When you have all of these things together it creates a great balance and each aspect helps each other, so I think it's a good thing to have a break from swimming at the moment and keeping those dryland exercises up will help you in the long run.
"It's also a good chance to pick something else up, focus on school – although it's challenging when you're not actually going to school – but it's a good time to think about your future and what you want to do."
The next 'JX Xtra' webinar will air on Friday 22 May at 12pm and will feature qualified Bio Island nutritionist Hannah Smiroldo, who will talk through healthy and nutritional snacks young athletes and their parents can make at home.
For more information on the series, click here.